Welcome to MKWS
---
Hi,
Welcome to the Milton Keynes Wargames Society web site. This web site is intended to be not only an insight into the activities of MKWS, but also to act as a catalyst to encourage newcomers to take up the hobby either with MKWS or elsewhere.
In general terms most MKWS activity revolves around gaming, using representative miniatures, on either a board or tabletop. The type of game may vary between Historical, Fantasy and Science Fiction. In recent times the variety in gaming has increased significantly. No longer the sole preserve of 15mm 7th Ed. or DBM; MKWS now supports numerous periods, such as Ancients, Renaissance, Napoleonic, Colonial, WW2, Modern, Fantasy, Pirates and Bloodbowl. The list continues to grow only restricted by the imagination and enthusiasm of the members.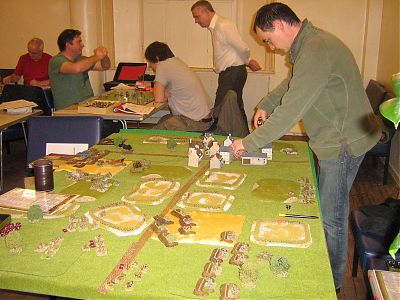 Let me help you get the best out of our website. If you are interested in Milton Keynes Wargames Society, then have a look at the About Us and Meetings links. Details of the MKWS annual event Campaign can be found via the Campaign link, and National League details via the National League link.
I hope that you enjoy your visit to our website, and that you will be encouraged to visit the club one evening.
Neil Sutherland
Chairman
Latest News
---
Dates for Your Diary
2 December 23
Looking ahead to the New Year please note that the MK One Dayer will take place on Saturday 13th January 2024. Details for the One Dayer can be found by following the DBMM Tournaments link. Also, Campaign 24 will run over the weekend 11/12th May 2024. Details for Campaign can be found by following the Next Campaign link, National League details will be added to the site once they become available and then found by following the National League link.
Past News
---
MKWS Club Meeting 4th May 2023
30 April 23
On Thursday 4th May 2023, York House is being used as a Poling Station. There will therefore be no MKWS meeting that week.
Campaign 2023
22 March 23
Campaign 23 details have been released. We're back in centre:mk, Middleton hall on 13th – 14th May 2023

MK One Dayer 2023 Results
16 January 23
The full results from the MK One Dayer, which took place on Saturday 14th January 2023 are now posted on this site. Follow the DBMM Tournaments link and then One Day Results 23.