CAMPAIGN: A convention by Wargamers for everyone
---


Campaign 2024 will take place over the weekend 11th/12th May 2024.
Campaign 2024 will have the same mix of Traders, Demonstration, Participation, And Tournament games.
We are also looking to improve both the presentation of Campaign, and the interaction between Campaign and those members of the public passing through the event. I am sure that all of you that intend being part of Campaign 2023, will be inspired by the challenge of raising the profile of our hobby. I would like to thank the centre:mk management for their enthusiastic support for a continuation of our fifteen-year relationship. So, tell your better half "Its time for shopping in Milton Keynes!".


Thecentre:mk is the large modern shopping centre of Milton Keynes. Middleton Hall is a 2,500 sq ft exhibition space, within thecentre:mk, adjacent to the John Lewis store.
Campaign Hosts: National League
Campaign has taken place in this most unique venue since 2001. Our objective is to present our hobby to as many people as possible. Whilst existing wargamers benefit from the lack of any admission charge and the obvious on-site attractions for partners or children, the thousands of MK shoppers have free access to Campaign as they move about thecentre:mk. The centre management estimates an average footfall of 100,000 people on Saturday and 50,000 people on Sunday. Obviously not all of these people will pass through Middleton Hall or Campaign, but the John Lewis store is very popular and Middleton Hall is situated at John Lewis's main entrance.
The Show

Campaign 07
It is our intention to promote as wide a spectrum of the hobby as possible at Campaign and to that end the show has been split into three main areas:
Demonstration and Participation Games
Clubs are invited to organise Demonstration and Participation games. These are usually local & regional clubs (e.g. Bedford, Tring, Abingdon, St Albans, Oxford, Selly Oak, North London and even Eastbourne). All of those who regularly attend report a positive response from the public.
Competition Games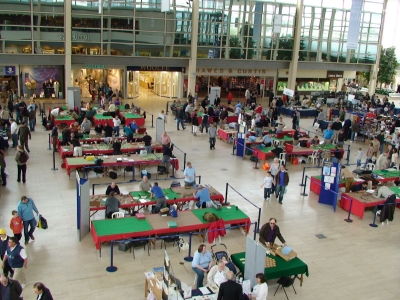 Campaign 07

Campaign 06
The competition resident at Campaign is The National Wargames League. The National League continues to expand each year, and the competitors enjoy the large open space, the natural light and the competition format. The longer playing time allows for a 5 game weekend & plenty of time to visit & browse the trade stands. The league covers DBMM, Field of Glory ( Ancient and Renaissance), Flames of War, L'Art de la Guerre and MeG. Details of the National League can be found by following the National League link to the left of this page. The competition also counts towards the BHGS ranking system.
Trade Stands
No show would be complete without as wide a variety of trade stands as possible. Each year the number of trade stand at Campaign has increased, and this year is no different. Please follow the Campaign link to the left of the screen to find the current list of this years traders.
Campaign 06